Freshen up your beard with Pinky's Chop Shop!
Winter is over — this means that the haggard beard you've been growing and growing in hibernation can reemerge fresh and clean for spring! 
Shape, trim, and style your beard with the leading men's groom lounge — Pinky's Chop Shop! Dive into beard care tips in today's post. 
Creating A Fresh Beard For Spring
Let's be honest, you can get away with an untrimmed and unkempt beard in the winter months — it's all a part of the winter chic aesthetic of beanies, layers, and a beard that keeps you warm. 
We're also amidst the pandemic, so if you're spending more time at home and less time seeing people in person, letting your beard go is a-okay. But, now that it's spring and there's warmer weather, more time is spent outside and getting out, which means beard care becomes more of a priority. 
How can you prioritize your beard this spring? 
Wash Your Beard
Just like you suds up your head, you need bubbles for your beard! If you're not doing it already, wash your beard every two to three days to fend off environmental toxins (pollution) and to remove any grime buildup such as sweat, food particles, and other debris. 
The hair in your beard grows optimally when it's clean. Use a specifically formulated beard wash that is designed to clean your beard, but preserve the natural oils. 
Moisturize Your Beard
A soft, supple beard is much easier to manage than one that's dry and itchy. This is where beard conditioner and beard oil come into play. When your beard is well-moisturized, it stays healthy and is much more tolerable.  
Ward off beard dandruff — a major party foul — by keeping it hydrated. So forget dusting the skin flakes from your shirt and embrace the power of a moisturized beard with the use of a beard conditioner and beard oil. 
Pro Tip: Use your beard conditioner after you wash it — if you need more moisture, add some beard oil to smooth and hydrate.
Brush Your Beard
Ditch unruly and tangled beards — and stay more hygienic — when you brush your beard daily. Whether you prefer a beard comb or a beard brush, both not only help nourish it by evenly spreading your beard oil and other natural face oils, but it also combats dandruff and removes any debris. 
Trim Your Beard
A fresh beard for spring begins with clean lines and a good trim. Help your beard thrive and grow robustly with some well-earned beard trimming. 
Whether you're preserving length or looking to really scale it back, start small and keep trimming to the desired length. For a short beard, consider the three or four guards — just leave room for a little error. 
With a longer beard, you can stick to beard scissors and begin to shape it that way, followed by cleaning up the neckline with an electric trimmer. 
Lifestyle Swaps For A Healthier Beard
While there are many physical ways you can improve the health and look of your beard, nothing beats a better diet and staying hydrated to promote a beautiful and hearty beard. 
Nourish You Beard With Healthy Food
From limiting processed foods and incorporating more nutritious options including fruits, veggies, protein, and healthy fats, your beard will benefit from healthy food swaps.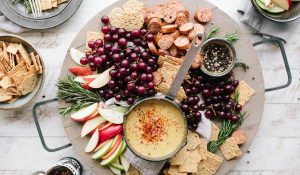 Hydrate Your Beard By Drinking More Water
Having a well-moisturized beard begins from the inside out! When you drink more water, this supports blood flow and circulation — all great for beard growth and maintaining a healthy beard. When there is enhanced blood circulation, nutrients get to where they need to be, including your beard.  
Drink more water throughout the day for a healthy and hydrated beard.
Lean On Pinky's Chop Shop For The Best Looking Beard This Spring!
While beard care starts at home with washing, conditioning, brushing it, and living a healthy lifestyle, Pinky's Chop Shop is the perfect one-stop-shop for spring grooming. 
Book today at one of our locations and schedule a basic or custom beard trim, classic shave, or men's facial.
No matter which Pinky's Chop Shop you visit, you'll always have an amazing experience and walk out feeling good and looking great!